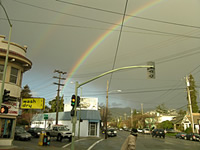 Title: Double Rainbow
Statement: Since I was 12, I have taken photographs. I think of myself as a documentary photographer, capturing moments when something interesting happens. In high school, I studied photography and was awarded Best in Show in the Regional Student Art competition. I believe that there is always more happening in any instant than we can consciously perceive. And it is that complexity of things we perceive and things that we observe that makes up our individual sensibilities. I don't know if this makes sense or not, but it's how I feel.
About the image: This photograph was taken one Friday evening at the end of a storm. As the edge of the storm system passed, there was a double rainbow. At first, I didn't know if anyone else saw the rainbows. Everyone just seemed to be going about their business. I stopped and took this shot.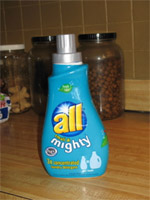 Title: Cleanliness is next to godliness
Statement: Something catches my eye and I try to capture it. A lot of my friends are artists and I've always wanted to learn more about art. Though I take pictures just for fun, I wouldn't mind photography being "my thing." I often wonder what makes good art or how I would become an artist or a photographer. I don't have time for classes at this point.
About the image: I went grocery shopping and when I unpacked the groceries, I thought it would make a funny photo. I notice that there is a lot of irony in art today and when I saw this I thought I'd give it a shot, pun intended.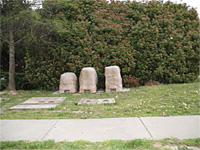 Title: Untitled
Statement: Photography is a hobby of mine. I consider myself a quirky guy and I my photographs show that side of me. I guess I just like to take pictures of weird stuff.
About the image: I was passing this on a walk. I find that you often see stuff like this without even questioning what it is doing in the environment. In fact, there is so much ugly stuff added to nature out there that I have to force myself even to see it anymore.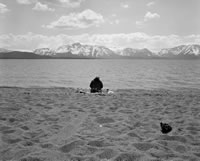 Title: Hot Sand
Statement: Water, sand, mountain, the cloudy sky and the man, master of them all.